Safety Training
---
TheSafetyMaster is the Top safety consultant in India and specializes in providing clients with insightful consultancy on safety and risk management solutions that improve their performance while reducing risks and costs. With an experienced team of safety experts and a vast knowledge of various industries, we are capable of delivering our client's ingenious solutions to their most complex problems.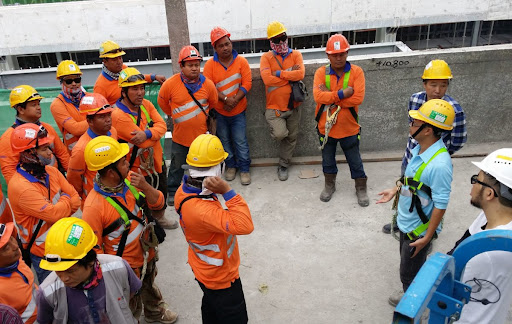 We provide tailored consultancy on compliance, quality, regulation, project safety, and workplace health and safety. Our services are designed to ensure that organizations have the tools necessary for risk management, risk reduction, hazard awareness as well as cost-saving decisions.
The goal of our company is not just to advise our clients about how to stay compliant but also to help them achieve a safer workplace environment now and in the future.
Why safety training is important in the workplace.
Safety training is important in the workplace because it enables the staff to know about safety precautions, rules, and regulations. It enables them to recognize safety hazards and correct them. It enables employees to understand the best practices and expectations for safe working conditions. It also helps managers to manage their environments in a safe manner.
Thesafetymaster help you to establish safety in your workplace
The SafetyMaster is India's leading safety consultant, providing services to different companies from all over the globe. Our team of safety experts has been helping companies deal with emergencies on a global scale. From workplace violence to climate change, we provide expert advice on how to avoid risks that could threaten your company.
TheSafetyMaster is a specialized company that provides safety audit services, as well as health and safety compliance consultation. We help clients in industries such as chemical processing, oil and gas drilling and services, fire protection, and others. TheSafetyMaster also performs Hazop Study for manufacturing plants in various industries. The service helps businesses to manage their workplace safety risks effectively, and meet legal requirements. Our experienced and expert staff will complete your safety audit in a timely manner to get you back on the job as soon as possible. Having worked in the safety industry for years, our focus is primarily on workplace health and safety, particularly within the industrial sector. We have seen first-hand the devastation that poor safety practices can cause within an organization where serious injuries and deaths occur at work. This has motivated us to improve workplace health and safety because we firmly believe that no matter what size organization you belong to, there is no excuse why you should have a serious accident in the workplace.
Contact us
to know more about accident investigation, call us at +91 -7665231743 ; +91-9413882016 or info@thesafetymaster.com