Electrical safety
High voltage and high-power electrical devices can be very dangerous. Improper handling or maintenance will have tragic results. Because of their high-voltage nature and hefty electricity requirements, electric devices are often a real danger to technicians. To stay competitive in our Industry we realized we needed a service that would manage all of electrical safety training records including qualification, certification, and registration. The solution had to be affordable, secure, easy to use, and tailored to the electrical company.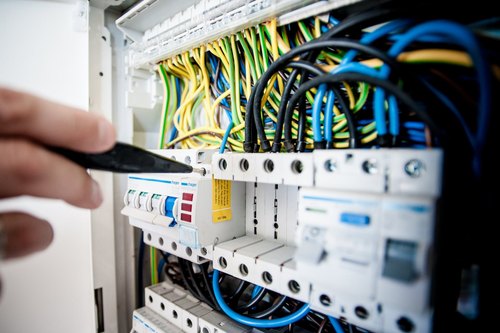 Electrical Safety Risk Assessment
Electrical Safety Risk Assessment is an area most people don't consider when they are putting up a business, but it is in fact one of the most important aspects of your business. If you don't do this then you may be putting your employees and customers at serious risk. Any properly following an Electrical Safety Risk Assessment process should be able to prove to their clients that a safe electrical system is being installed. Because all installations and modifications carry some risk, you must assess the risk and address it, thus ensuring you can comply with electrical regulations. The implementation of a safety program into your operation will reduce the chances of experiencing a fire at a workplace, which could be potentially fatal.
Lightening protection study
The importance of lightning protection study can't be stressed out. If you have a huge building then it would be a very good idea to hire professional quantity surveyors who tell the total cost of a project by their survey. So if you are planning to go for a lightning protection system study then the proper way to select a reliable inspector is by doing thorough research on them.
Thermography Study
Thermography is one such new and fast-growing modality in the inspection and detection of defects and flaws in thermal plants. It is not a camera but a sophisticated thermographic technique for inspecting faults or defects through temperature differences. A thermography study is carried out to detect the faults in motors, generators, transformers, control panels, and switch gears of thermal plants
.
Residual Life Assessment
Residual Life Assessment is basically an investigation of the operational productivity of machinery or equipment. Residual life assessment helps policy issuing authorities to make better decisions about which machines and equipment to get their book value depreciated as well as those to be sustained at least for the time they can render useful service. These assessments are performed to determine the optimal functional service life for a machine, asset, or system. In other words, residual life assessment measures the length of time at which equipment's service is estimated to be in peak operating condition.
Energy Audit
Energy Audit is a term used to describe the process of quantifying energy usage, producing a report that identifies opportunities for improving energy efficiency, and implementing some or all of those improvements. The use of the audit model has spread beyond just energy and into other fields such as an environmental audits. It's a good idea to perform an energy audit on any building prior to refurbishment or renovation so you know where to focus on energy efficiency work. Improving a building's energy performance can be costly, but at the same time, it may help you save on your utility bills and qualify for rebates and tax incentives.
Arc Flash Study
An Arc Flash Study is designed to help identify what hazards may be present in the facility. The study will help you identify any significant portions of the electric system that can cause a dangerous arc flash event, which could result in serious (or fatal) injury. Arc flash studies offer a valuable visual representation of potential arc flash hazards. Arc flash studies are important for engineers to understand how to prevent a thermal incident from occurring that could lead to a flash fire. Through thermal modeling, we can discover the areas with the most risk, and better predict where the most severe arc flash events could potentially occur.
Hazardous Area Selection of Electrical Equipment
Selecting the correct Electrical Equipment for hazardous areas is not as easy as it seems. The equipment selection process can be daunting and many engineers or maintenance managers find themselves burdened with questions. Electricity is the only device in the modern industrial field which is isolated from production and handles hazardous materials. This is the reason why all the electrical equipment used at work should be selected based on the given criteria.
Contact us
for inquiry on Electrical.